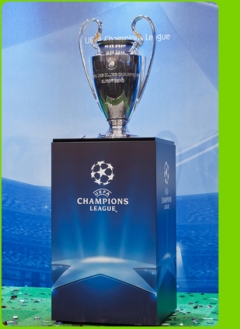 Cristiano Ronaldo will return to Manchester for the first time since his world record £ 80 million move from Manchester United to Real Madrid almost three and a half years ago, and his return will surely be the talking point in a country which has often speculated about his future at the club, linking him with a sensational return to his old hunting ground at Old Trafford.
But the Portuguese international skipper will have to keep all that publicity out of his mind as he looks to help secure an all important win for Los Blancos as they look to qualify for the pre-quarter final stages of the UEFA Champions League with one match remaining. After a lackluster display in the very first match of the competition against their opponents this midweek in the first match week of the Champions League as they rode a last minute winner from Ronaldo to secure a 3-2 win at home, Real have won one, lost one and drew another match and sit in second place in the Group of Death behind German champions Borussia Dortmund.
Real have been having a brilliant couple of weeks in la Liga and so are their strikers Gonzalo Higuain and Karim Benzema. After Ronaldo was injured with a deep cut over his eye in the match against Levante, Real will have their talismanic striker fit again and raring to go against one of his favorite opponents during his six year spell at Manchester United.
City, on the other hand, sit bottom of the group with just two points from their four games so far and they are all but out from the competition in the first round for the second straight season. If The Blues fail to produce a miracle and progress to the next round, the pressure will increase immensely on manager Roberto Mancini, who has been a public relations nightmare over the last few weeks.
The names of Pep Guardiola and ironically, Jose Mourinho, the Real Madrid manager have been linked with his position and if he cannot steer the club to at least a EUROPA League position, he will have to answer to the owners of the club, who have poured over £ 500 million into the club over the last five years.
Madcap striker Mario Balotelli might get a start for the English champions and Edin Dzeko is also in line to start the match.