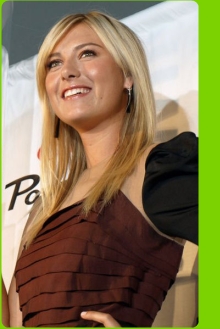 Maria Sharapova lost an extremely closely fought battle against Victoria Azarenka in the semi finals of the US Open. The match was marked by the incessant screaming by both the players and the decibel levels of the tennis match reached a new height as both players slogged it out on the court with Azarenka finally emerging victorious.
Victoria Azarenka won the match 3-6, 6-2 and 6-4 and has now made her way to the finals of the U.S. Open where she will be looking to emulate her terrific form and take home the trophy.
Though the sound levels were quite high throughout the game, the spectators sure weren't complaining as they quality of the tennis was quite terrific with both players giving in their all to get a win. The spectators gave both the winner and the loser a standing ovation, acknowledging Sharapova's attempt which could unfortunately not yield any result for her.
Both Maria Sharapova, the crowd favourite for obvious reasons and Victoria Azarenka are from Russia but there was no lack of bad blood through out the game. The intensity with which they both played their game revealed just how desperate both were for the win. Though the crowd was initially supporting Maria Sharapova for her looks, they soon warmed up to the very exciting and closely fought match. The two are ranked number one and two in women's tennis and they do not quite pretend to be much of a friend to each other, on and off the court, hence there was a certain element of a grudge battle being played out at Flushing Meadows as Azarenka finally won over Sharapova in a mouthwatering encounter.
Maria Sharapova tried her best to keep the match in her favour as she tried to keep the third set at level pegging the match to the very final game but she was having to to work extremely hard for it in each and every service game. But there was a limit to her endurance which she had long crossed in the match and she finally served at 4-5 needing only a hold to stay put in the match. She defended Azarenka's first match point very bravely but succumbed to the pressure finally and lost the match.
What remains to be seen is if Victoria Azarenka can emulate her Australian Open success here and take home the prized U.S Open or will she not be able to repeat her wonderful performance against Maria Sharapova. One thing is for sure, that having won the battle over Sharapova, she would sure sleep peacefully for many a nights.